Ice cream and the internet of things: a summer in Boston
Ice cream and the internet of things: a summer in Boston Heading link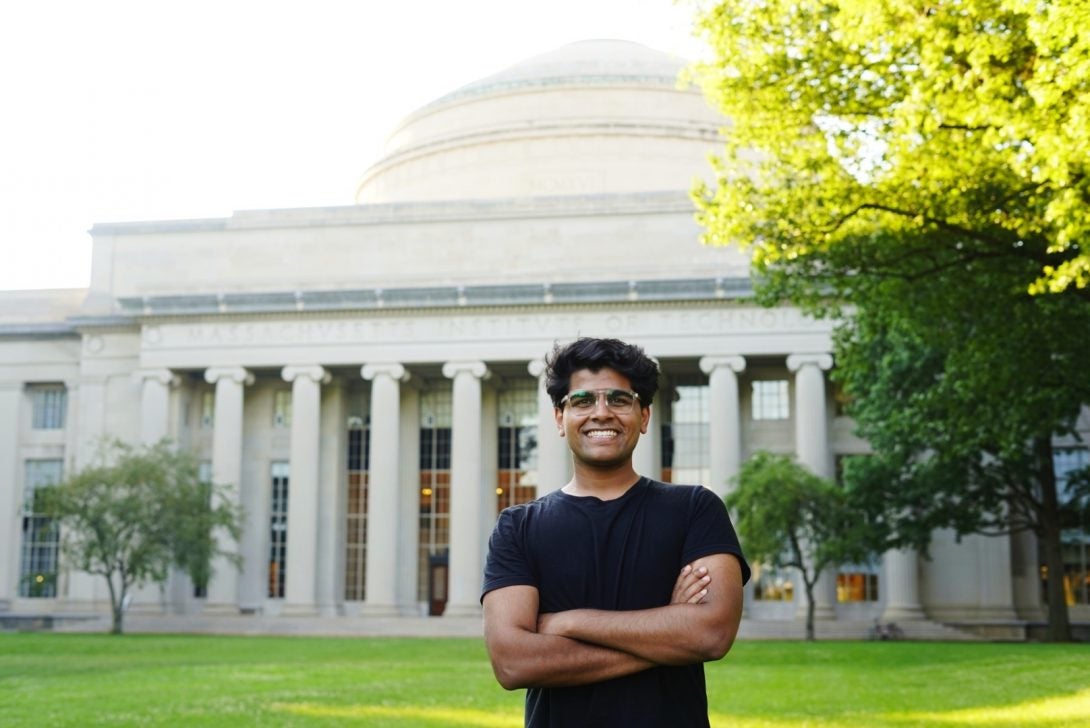 For Akshat Kumar, it starts with making his bed each morning. It was a habit he fought as a child, but his mother insisted—she would tell him that success starts with the small things. This ritual endures, and it helps him stay motivated and dedicated to achieving all of his goals, no matter their size.
Kumar, an international student from India, chose to study electrical and computer engineering at UIC based on the strength of the program and the plentiful undergraduate research opportunities. Now a senior, he's majoring in computer engineering with a mathematics minor.
Kumar set his sights on his most recent big goal at a seminar held by U.S. News Global Education, an outside organization that helps international students to make the most of their study in the United States. It was there that he heard about the Summer Research Program at the Massachusetts Institute of Technology.
"When I came to UIC, I was playing with all of [the school's] dominoes in a way that I could get that internship," Kumar said.
Kumar immersed himself in everything he could at UIC. He is on the ECE Student Advisory Board. He served as a teaching assistant for ECE 115 Introduction to Electrical and Computer Engineering under Clinical Associate Professor Vahe Caliskan, and he worked with Assistant Professor Amit Trivedi on a nanotechnology-related project through UIC's Guaranteed Paid Internship Program. He also assisted Research Professor Ahmet Cetin on a human-computer interaction project for two semesters. He was then tapped as a peer mentor for the Early Research Scholars Program.
All that work paid off: Kumar was one of about 40 undergraduates accepted to the summer program at MIT. He spent the summer in a computer science and artificial intelligence laboratory on a project that involved embedding 3D-printed objects with QR codes and ArUco markers, which are placed within an image and provide a point of reference or a measure. He said the technology could serve as a starting point for Internet of Things objects. A paper he coauthored on the research, "Infrared Tags: Rapidly Readable Invisible Codes Using Infrared-Translucent 3D Printed Filaments and Low-Cost Infrared Cameras," was submitted to the Association for Computing Machinery's 2022 Conference on Human Factors in Computing Systems.
Outside the lab, Kumar enjoyed department information sessions and one-on-one chats with MIT faculty. The school also hosted a night with IBM Research where Kumar connected with IBM Fellow John Cohn, who is best known as the engineer scientist in the Discovery Channel TV show The Colony. Kumar is discussing ways to work with Cohn in the near future.
It wasn't all work, though. Kumar connected with a cousin who lives in Boston, kayaked, and claims to have visited "almost all" the good ice cream shops and Chinese and Indian restaurants in town. He also visited science and art museums and took in a Red Sox game.
Kumar said the help he's received while at UIC has been incredible. He noted that Caliskan would chat with him about not only the class he was taking at the time, but about jobs and life, and Caliskan and Cetin both wrote him letters of recommendation. UIC alumnus Álvaro Sahagun, now a PhD student at MIT, reviewed his summer program application and essays.
"Being an international student is hard," Kumar said. "Most companies' hiring criteria include being a U.S. citizen or resident. I never thought I'd get this opportunity."
Kumar isn't sure what he will do after graduation. He thinks he'd like to work in industry, then possibly return to academia. He says other students have said they like the way he explains concepts, and he likes to teach.
"I never thought about what I would do after graduation," Kumar said with a laugh. "I played all my cards."