Department Head
Rashid Ansari, PhD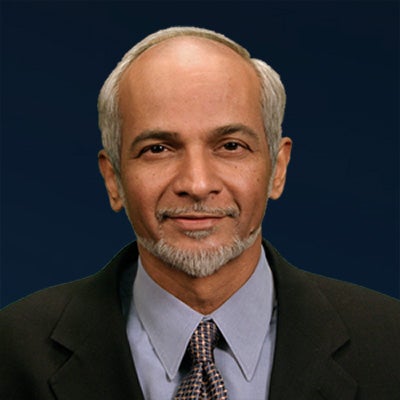 Professor Rashid Ansari received his PhD in electrical engineering and computer science from Princeton University in 1981 and his bachelor's and master's degrees in electrical engineering from the Indian Institute of Technology, Kanpur, India. He joined UIC in 1995 after serving as a research scientist at Bell Communications Research and on the electrical engineering faculty at the University of Pennsylvania.
Dr. Ansari's research activities focus on the analysis, manipulation, and communication of signals, images, and video and the related theory, algorithms, and applications. A major thrust of his recent research is on multidisciplinary topics encompassing engineering and healthcare-related disciplines of ophthalmology, radiology, nursing, neurology, and physical therapy. He has worked on retinal image analysis for detecting a variety of abnormalities, infrared sensing of epileptic seizures during sleep, compression of radiological images, automated detection of pain from facial expressions of patients whose verbal ability to communicate is impaired, and mining and analysis of nursing-related electronic health record (EHR) data to inform best practices. His research also has explored the theoretical foundations and applications of multi-rate processing and wavelet analysis of image and video signals and the problem of energy-efficient data gathering and communication in wireless sensor networks.
Dr. Ansari became a fellow of the Institute of Electrical and Electronics Engineers (IEEE) in 1999. He has served in editorial roles for several journals, such as IEEE Transactions on Image Processing, IEEE Transactions on Circuits and Systems, IEEE Signal Processing Letters, and the Journal of Visual Communication and Image Representation. He has been a member of the Digital Signal Processing Technical Committee of the IEEE Circuits and Systems Society and a member of the Image, Video, and Multidimensional Signal Processing Technical Committee of the IEEE Signal Processing Society. He was a member of the organizing and program committees of several past IEEE conferences and SPIE conferences, and he served in a variety of roles, including conference general chair, of the IEEE Visual Communication & Image Processing (VCIP) conferences.
Department Head
Rashid Ansari
Professor and Department Head