Electrical Engineering Major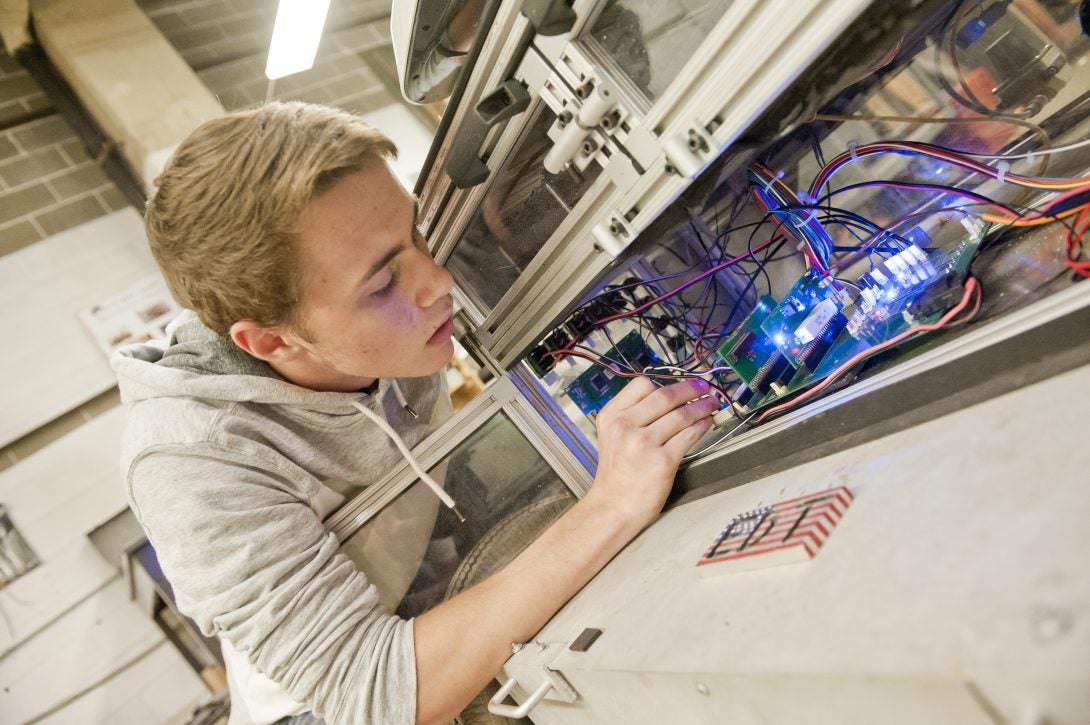 If something can be switched on, an electrical engineer likely had a hand in its development. Electrical engineers hold the keys to the operation of the vast majority of the devices we use in our everyday lives. A degree in electrical engineering from UIC will give you the knowledge and skills you need to join their ranks.
Electrical engineering is always extending its boundaries into new areas of technology. Electrical engineers are developing the technology needed to power electric cars far beyond the range of today's batteries and charging stations. They are working on nanoscale devices that have the potential to reshape medical diagnosis and treatment. Electrical engineering is helping us to be more energy-efficient and exploring ways to make renewable energy useful to a greater proportion of the world's population.
What about electrical engineering excites you? Perhaps you want to help create the robots that will be powered by the next generation of artificial intelligence. Maybe you will develop a way that puts wind energy onto the grid in a more efficient way. Or you could be part of a team that determines what 6G wireless will be like and when we will get it.
Full degree requirements for the electrical engineering major are in the UIC course catalog, but the overview below provides a sense of what's ahead in EE.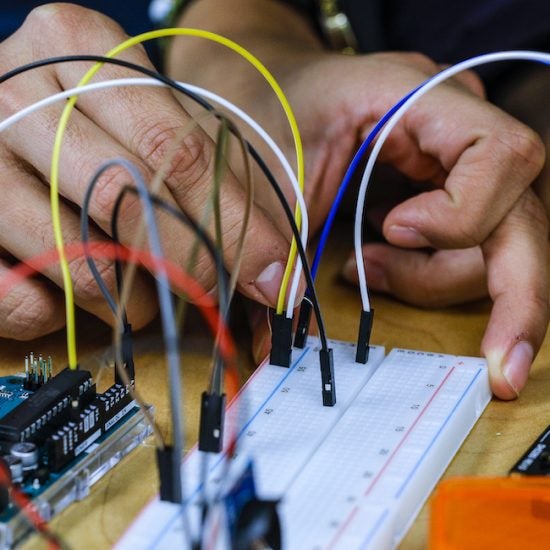 If you're curious about electrical engineering, start here. This one-page overview will explain why this major is important and how you can use it to launch your career.
See the major overview
Electrical engineering majors complete coursework in three categories:
Nonengineering and general education courses: Nonengineering and general education courses provide a foundation in math and science and will make you a well-informed graduate in disciplines outside of electrical engineering. You will take 53 credit hours in this area, including chemistry, physics, math, and a range of "chart-your-own-path" classes in categories such as Understanding U.S. Society and Understanding the Creative Arts. For details on general education requirements, consult the course catalog.
Required engineering courses: Students earn 58 credit hours from engineering courses that all EE majors must take. These courses—including Electronics I and II, Discrete and Continuous Signals and Systems, and Solid-State Device Theory—introduce you to the field. For details on these requirements, please consult the course catalog.
Technical electives: EE majors complete 17 credit hours from courses that interest them most and will prepare them for the specific careers or research they have in mind. Examples of technical electives include Nanoelectronics, RF and Microwave Guided Propagation, Power Semiconductor Devices and Integrated Circuits, and Robotics: Algorithms and Controls. The full list is in the course catalog.
See how these requirements play out for a typical student: Check out the EE major flowchart.
The ECE department has identified groups of courses that can help guide your academic planning based on the areas of electrical and computer engineering in which you seek to specialize. You can find descriptions of each track and its associated courses on this page.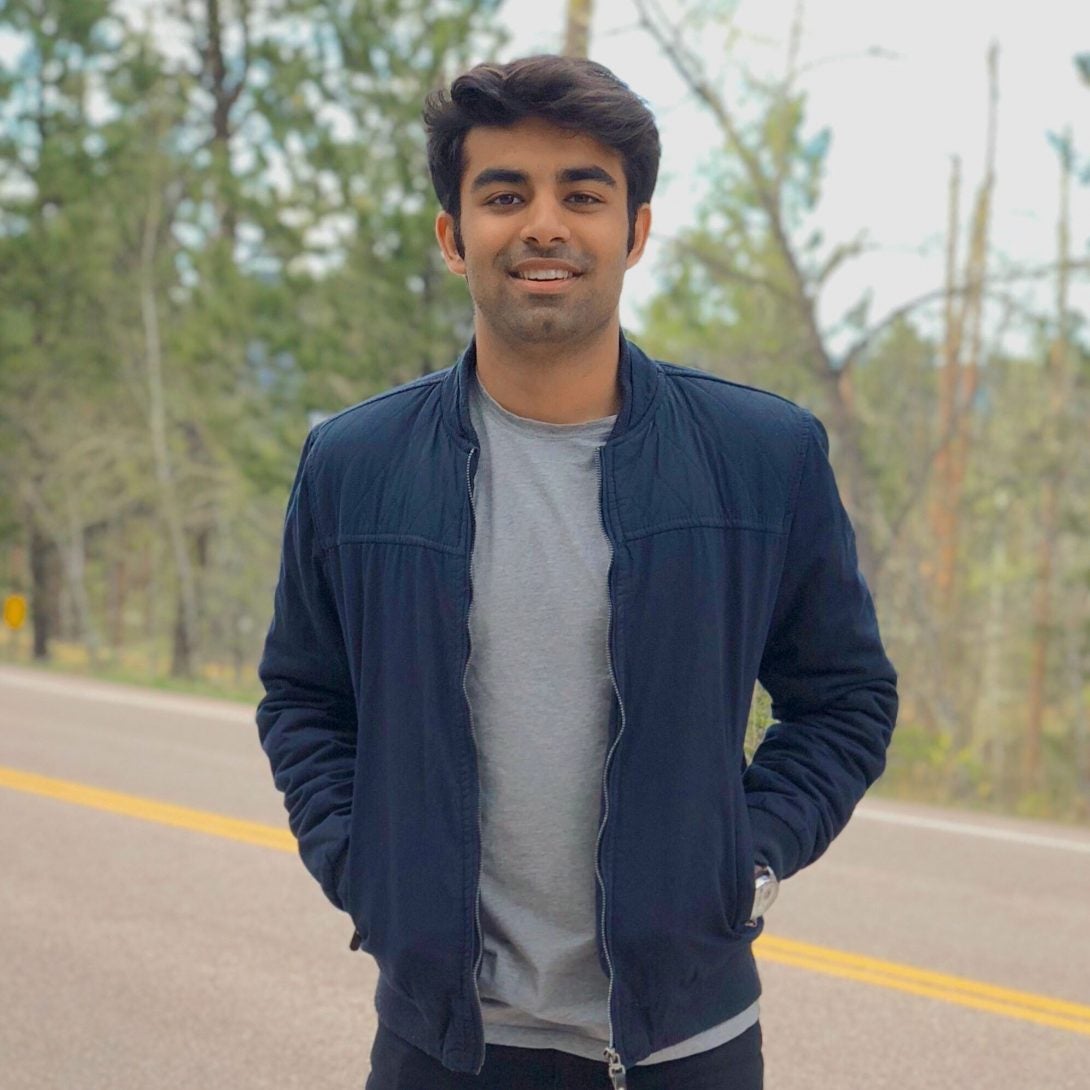 Muhammad Shaikh
Electrical Engineering, BS '21 | Pakistan
Dream job: Energy scientist
Name one thing you think UIC does better than anywhere else: You can socialize and interact with people from more than 10 countries in a single day by walking around campus.
What do you hope to be doing right after graduation? Graduate study in energy engineering.
How is the College of Engineering preparing you for the working world? By getting to know more about how I can use my degree in the outside world, and by interacting with professors and learning about their research.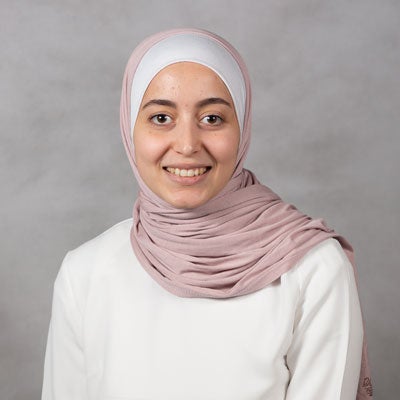 Marah Abuhindi
Electrical Engineering, BS '21 | Darien, IL
Name one thing you think UIC does better than anywhere else: UIC offers so many resources for people from all different backgrounds, which helps you to easily fit socially and academically.
Favorite course: ECE 265 Introduction to Logic Design and ECE 266 Introduction to Embedded Systems. Both offered great hands-on experience and exciting projects!
What is the most valuable student organization you've joined? Society of Women Engineers provides me with a support group that makes me more confident as a female engineering student. SWE holds so many valuable events for networking and building connections. It also provides great opportunities to introduce younger female students to engineering and STEM.
Place you're most likely to be found on campus: Science and Engineering Laboratory. It has different quiet spots that makes it perfect to study.
The electrical engineering program at UIC is accredited by the Engineering Accreditation Commission of ABET, http://www.abet.org.
As part of our accreditation process, ABET asks our department to capture the overall goals of the electrical and computer engineering programs. These are called our educational program objectives. Within a few years of graduation, our talented graduates will:
Contribute to their employers, organizations, and communities.
Be leaders in their professions around the world and expand engineering knowledge in a variety of communities.
Practice and exhibit high ethical values and communicate effectively with colleagues and the public.
Pursue advanced degrees or become engineers, researchers, innovators, consultants, or entrepreneurs.
Another part of the ABET accreditation process requires the department to identify the specific knowledge and skills that students are intended to have when they complete their undergraduate education. These are called student outcomes.
Students graduating from the electrical engineering, computer engineering, and engineering physics programs at UIC will have:
an ability to identify, formulate, and solve complex engineering problems by applying principles of engineering, science, and mathematics.
an ability to apply engineering design to produce solutions that meet specified needs with consideration of public health, safety, and welfare, as well as global, cultural, social, environmental, and economic factors.
an ability to communicate effectively with a range of audiences.
an ability to recognize ethical and professional responsibilities in engineering situations and make informed judgments, which must consider the impact of engineering solutions in global, economic, environmental, and societal contexts.
an ability to function effectively on a team whose members together provide leadership, create a collaborative and inclusive environment, establish goals, plan tasks, and meet objectives.
an ability to develop and conduct appropriate experimentation, analyze and interpret data, and use engineering judgment to draw conclusions.
an ability to acquire and apply new knowledge as needed, using appropriate learning strategies.
In the 2021-2022 academic year, 353 students are enrolled at UIC Engineering as electrical engineering majors across all class years. The department graduated 84 electrical engineering majors in the academic year ending August 2021. View historical enrollment and graduation data here.