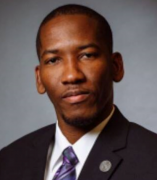 Dieff Vital, Ph.D.
Postdoctoral Associate
Electrical and Computer Engineering
Pronouns: He/Him/His
Contact
Building & Room:
1010 SEO
Address:
851 S. Morgan St, MC 154, Chicago, IL 60607
Office Phone:
CV Download:
Related Sites:
About
Dieff Vital was born in Torbeck, Haiti. He left his homeland to USA in 2012 after the earthquake (of January 12, 2010) hit. He started his journey at Miami Dade College where he completed his associate in arts with highest honors and distinction. He then moved to Florida Polytechnic University where he completed his Bachelor of Science (summa cum laude) in mechanical and industrial engineering in 2017. He moved back to Miami and completed his Ph.D.  in electrical and computer engineering at Florida International University (FIU) in 2021.
Dr. Vital started his research journey at Florida Polytechnic University as an undergraduate Research Assistant, where he developed supercapacitors out of phosphatic clay mixed with diatoms. He was involved in other projects that led his to win the Florida Academy of Sciences Al Hall Memorial Award for Best Poster and Excellent Academic Achievement. His research was supervised by Dr. Melba Horton, Dr. Sesha Srinivasan, and Dr. Chris Coughlin.
His Ph.D. work includes on-textile RF wireless power transfer and harvesting for Internet of Things applications and smart dressing solutions for electrochemical sensing and monitoring. He was supervised by Dr. Shubhendu Bhardwaj and Dr. John L. Volakis. For this work, he received the McKnight Dissertation Year Fellowship. During his Ph.D. he received several other awards including the Fall 2018 Student Conference Award, the International Microwave Symposium (IMS2019)/RFIC2019 Ph.D. Student Sponsorship (travel award), the 2019 U.S. National Committee for the International Union of Radio Science (USNC-URSI) Travel Fellowship, the National Science Foundation (NSF) student travel to attend the smart health workshop, the NSF IEEE/RFIC'20 Student Conference Registration Award, and the McKnight Fellowship Travel Grant. He has also received the Third Place from the IMS2019 Student Design Competition and honorable mentions in IMS2019 and IMS2020 3MT Competitions. Dr. Vital joined the electrical and computer department at UIC in August 2021 and his research will cross the frontiers of RF textile electronics, internet of things/internet of health things, 5G, and quantum RF engineering.
Selected Publications
Vital, Dieff, Bhardwaj, Shubhendu, Volakis, John L. "Textile-Based Large Area RF-Power Harvesting System for Wearable Applications," IEEE Transactions on Antennas and Propagation
Vital, Dieff, Bhardwaj, Shubhendu, "Misalignment Resilient Anchor-Shaped Antennas in Near-Field Wireless Power Transfer Using Electric and Magnetic Coupling Modes," IEEE Transactions on Antennas and Propagation
Vital, Dieff, Gaire, Pawan, Bhardwaj, Shubhendu, Volakis, John L. "An Ergonomic Wireless Charging System for Integration with Daily Life Activities," IEEE Transactions on Microwave Theory and Techniques
Mao, Chun Xu, Vital, Dieff, Werner, Douglas H., Wu, Yuhao, Bhardwaj, Shubhendu, "Dual-Polarized Embroidered Textile Armband Antenna Array with Omni-Directional Radiation for On/Off-Body Wearable Applications," IEEE Transactions on Antennas and Propagation
Martinez, Idellyse, Mao, Chun Xu, Vital, Dieff, Shahariar, Hasan, Werner, Douglas H., Jur, Jesse, S., Bhardwaj, Shubhendu. "Compact, Low-Profile and Robust Textile Antennas with Improved Bandwidth for Easy Garment Integration," IEEE Access
Mao, Chunxu, Vital, Dieff, Pingjuna L. Werner, Douglas Werner, Bhardwaj, Shubhendu. "Dual-Polarized Armband Embroidered Textile Antenna for On/Off-Body Wearable Applications," Antennas and Propagation & USNC/URSI National Radio Science Meeting, 2019 IEEE International Symposium on
Vital, Dieff, Bhardwaj, Shubhendu, Volakis, John L. "Misalignment Resilient, Near Field Wireless Power Transfer (WPT) Antennas using Anchor Shape," Antennas and Propagation & USNC/URSI National Radio Science Meeting, 2019 IEEE International Symposium on
Vital, Dieff, Bhardwaj, Shubhendu, Volakis, John L. "Bending and Twisting Tests for RF Performances of Textile Transmission Lines," Antennas and Propagation & USNC/URSI National Radio Science Meeting, 2019 IEEE International Symposium on
Vital, Dieff, Zhong,Jingni, Bhardwaj, Shubhendu, Volakis, John "Loss-Characterization and Guidelines for Embroidery of Conductive Textiles," Antennas and Propagation & USNC/URSI National Radio Science Meeting, 2018 IEEE International Symposium on
Zhong,Jingni, Vital, Dieff, Bhardwaj, Shubhendu, Volakis, John "2.45 GHz Wearable RF-Harvester for Large Area Textile Harvester (LATH) Integration," Antennas and Propagation & USNC/URSI National Radio Science Meeting, 2018 IEEE International Symposium on
Vital, Dieff, Volakis, John L., Bhardwaj, Shubhendu "Textile-Based Novel Anchor-Shaped Antenna for Near-Field Wireless Power Transfer," 2019 International Workshop on Antenna Technology (iWAT)
Vital, Dieff, Bhardwaj, Shubhendu, Volakis, John L. "A 2.45 GHz RF Power Harvesting System Using Textile-Based Single-Diode Rectennas," IEEE IMS-MTT International Microwave Symposium 2019
Bhardwaj, Shubhendu, Sayeed, SK Yeahia Been, Jose Solis Camara, Vital, Dieff, Raj, PM, "Reconfigurable mm-Wave Flexible Packages with Ultra-Thin Fan-Out Embedded Tunable Ceramic IPDs," International Symposium on Microelectronics 2019
Sayeed, SK Yeahia Been, Daniel Wilding, Jose Solis Camara, Vital, Dieff, Bhardwaj, Shubhendu, Raj, PM, "Deformable Interconnects with Embedded Devices in Flexible Fan-Out Packages," International Symposium on Microelectronics 2019
Vital, Dieff, Volakis, John L., Bhardwaj, Shubhendu "A Wireless Power Transfer System (WPTS) Using Misalignment Resilient, On-Fabric Resonators for Wearable Applications," IEEE IMS-MTT International Microwave Symposium 2020
Vital, Dieff, Volakis, John L., Bhansali, Shekhar, Bhardwaj, Shubhendu "Electronic Wound Monitoring Using Fabric-Integrated Data Modulation," Antennas and Propagation & USNC/URSI National Radio Science Meeting, 2020 IEEE International Symposium on
Vital, Dieff, Gonzalez, Alfredo, Volakis, John L., Alwan, Elias A., Bhardwaj, Shubhendu "A 2.45 –GHz Frugal Dumbbell-Shaped Rectenna Built on Recyclable Substrates," Antennas and Propagation & USNC/URSI National Radio Science Meeting, 2020 IEEE International Symposium on
Vital, Dieff, Monshi, Md Monirojjaman, Bhardwaj, Shubhendu, Raj, P. Markondeya, Volakis, John L. "Flexible Ink-Based Interconnects for Textile-Integrated RF Components," Antennas and Propagation & USNC/URSI National Radio Science Meeting, 2020 IEEE International Symposium on
Vital, Dieff, Volakis, John L., Bhardwaj, Shubhendu "Textile-Based Corrugated-X Resonators for Wireless RF Power Transfer for Wearable Applications," 2020 Antenna Measurement Techniques Association Symposium
Vital, Dieff, Volakis, John L., Bhardwaj, Shubhendu "An Ultra-High-Frequency Wirelessly-Powered Smart Bandage for Wound Monitoring and Sensing using Frequency Modulation," IEEE IMS-MTT International Microwave Symposium 2021
Vital, Dieff, Volakis, John L., Bhardwaj, Shubhendu "Power Transfer and Harvesting System Having Anchor-Shaped Antennas (US 16/916,187),"
Vital, Dieff, Pulak Bhushan, Shekhar Bhansali, Volakis, John L., Bhardwaj, Shubhendu "Smart Bandage for Electrochemical Monitoring and Sensing Using Fabric-Integrated Data Modulation," (US 17/157,624)
Service to Community
Reviewer-IEEE Transaction on Antennas and Propagation
Reviewer-IEEE Transaction on Components, Packaging and Manufacturing Technology
Education
Ph.D., Florida International University  (April 2021)
Electrical and Computer Engineering
• McKnight Dissertation Year Fellowship (2020-2021)
• Dissertation :"Textile-Integrated Wearable RF Wireless Power Transfer and Harvesting for Battery-Free Medical Sensing."
MS, Florida International University  (Dec. 2020)
Electrical and Computer Engineering
• SGA Graduate Scholarship (2018-2019, 2019-2020)
BS, Florida Polytechnic University  (May 2017)
Mechanical and Industrial Engineering (Summa Cum Laude)
• Presidential List (Fall 2015, Fall 2016, Spring 2017)
• Provost's List (Spring 2016)
Associate in Arts, Miami Dade College  (Dec. 2014)
Mechanical and Industrial Engineering (Highest Honors with Distinction)
• Dean's List (Spring 2013, Fall 2013, Spring 2014, Fall 2014, Spring 2015)
• Mathematics Award (April 2014)
• Basketball Properties Scholarship
Professional Memberships
Associate Member: IEEE Union Radio-Science Internationale (URSI)-Commission B (academic)
Paul Harris Fellow: Rotary International (leadership)
IEEE Microwave Theory and Techniques (Member)
IEEE Electronics Packaging Society (Member)
IEEE Young Professionals (Member)
IEEE Engineering in Medicine and Biology Society (Member)
IEEE MTT-TC-26 "RFID, Wireless Sensors and IoT" (Affiliated Member)
Sigma Xi-The Scientific Research Society (2019 Secretary)
Toastmasters International (2020-2021 Treasurer)
Florida Polytechnic University-Presidential Ambassadors
Rotaract Club-Florida Polytechnic University (Founding President)