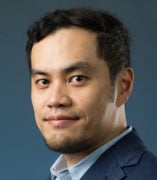 Pai-Yen Chen
Associate Professor
Department of Electrical and Computer Engineering
Contact
Building & Room:
1101 SEO
Address:
851 S. Morgan St, MC 154, Chicago, IL 60607
Office Phone:
Email:
Related Sites:
About
Research Interests
Dr. Pai-Yen Chen's group conducts multidisciplinary research dedicated to applied electromagnetics, antennas, RF and microwave engineering, wireless sensors and integrated systems, metamaterials, QISE, and nano-electromagnetism in plasmonics and nanophotonics.
Selected Publications
Summary: 135 journal papers (including Nature, Nature Electronics, and numerous IEEE transactions), 120 conference papers, one book, 9 book chapters, and 10 US patents (>8,500 citations; h-index: 47). See the publication details at Google Scholar.
Professional Leadership
Board of Directors, Applied Computational Electromagnetics Society
Chair & Founder (2019-2021), IEEE Chicago Section Sensors Chapter
Associate Editor, IEEE Sensors Journal
Associate Editor, IEEE Journal of Radio Frequency Identification
Associate Editor, IEEE Journal of Electromagnetics, RF and Microwaves in Medicine and Biology
Associate Editor, IEEE Transactions on Antennas and Propagation
Guest Editor, IEEE Transactions on Antennas and Propagation
Associate Editor, IEEE Antennas and Wireless Propagation Letters
Notable Honors
2021, Emerging Leader, IOP Measurement Science and Technology
2019, ACES Early Career Award, Applied Computational Electromagnetics Society
2018, NSF CAREER Award, National Science Foundation
2018, SPIE Rising Researcher Award, Society of Photographic Instrumentation Engineers
2018, Raj Mittra Travel Grant (RMTG) Award, IEEE-APS
2017, IEEE Sensors Council Young Professional (Early Career) Award, IEEE Sensors Council
2016-2020, Young Scientist Award, URSI General Assembly (2017), URSI: Commission B (2016), and PhotonIcs and Electromagnetics Research Symposium (PIERS) (2019)
2016, Summer Faculty Fellowship, Air Force Research Laboratory
2014, Director Fellowship (declined), Argonne National Laboratory
2012, Fellowship, Donald D. Harrington Fellows Program
Education
Ph.D. University of Texas at Austin, USA, 2013
M.S., National Chiao Tung University, Taiwan, 2006
B.S., National Chiao Tung University, Taiwan, 2004
Professional Memberships
IEEE Senior Member
SPIE Member
OSA Member