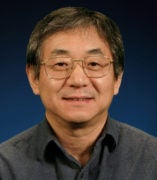 Gyungho Lee
Professor Emeritus
Department of Electrical and Computer Engineering
Contact
Address:
851 South Morgan St. Chicago, IL 60607.
Office Phone:
Email:
About
Computer architecture
Microprocessor and networking hardware design
Compiler optimization
Computer system security
Professional Achievements
Associate Editor, IEEE Transactions on Parallel and Distributed Computing
Subject area editor, Journal of Parallel and Distributed Computing
Editorial Board, Parallel Computing
Program committee chair, the 6th IEEE Workshop on Interaction between Compilers and Computer Architectures, Feb. 2002
Self-invalidation method for reducing coherence overheads in a bus-based shared-memory multiprocessor apparatus, U.S. Patent No. 5,835,950, Nov. 1998 (with S. Cho)
Distinguished visitor, IEEE Computer Society (2000 – 2002)
Non-Inclusive Memory Access Mechanism, U.S. Patent No. 5,937,431, Aug. 1999 (with J.Kong)
Block Replacement Method in Cache Only Memory Architecture Multiprocessor, U.S. Patent No.5,692,149, Nov. 1997.
Best Paper Award, the 12th IEEE Int'l Conf. Computer Communications and Networks, Dallas, Texas, Oct. 2003
Outstanding Paper Award, the 15th IEEE International Conference on Parallel Processing, Aug. 1986.
Education
Ph.D Computer Science
University of Illinois at Urbana-Champaign, 1986
M.S. Computer Science
Korea Adavnced Institute of Science and Technology, 1979
B.S. Mathematics
Sogang University, 1977