Finding joy in jazz, city life, and phonons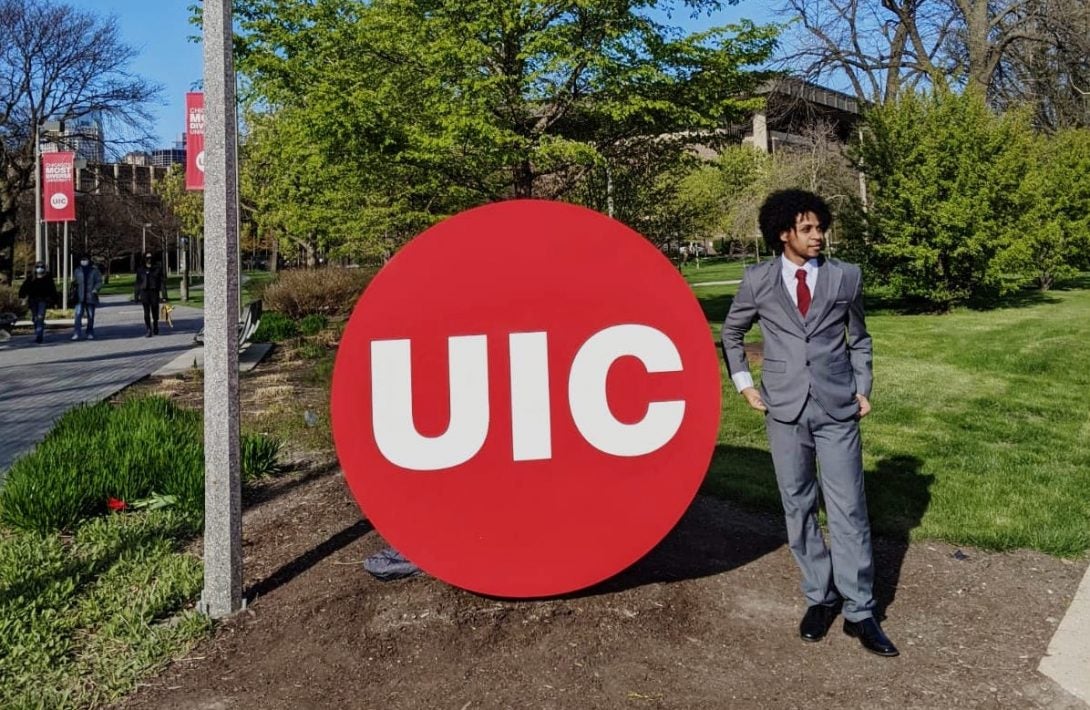 After five years of graduate study at UIC, Ahmed Mohamed is ready to go out and work in the field of phonon engineering.
Mohamed, advised by Distinguished Professor Michael Stroscio, did his doctoral research in the area of carrier and thermal transport in semiconductors, which are important parameters in the operation of electronic devices. Carriers are charged particles such as electrons and phonons that transport electrical current in electronics. Phonons vibrate as they move, affecting both electrical conductivity and thermal conductivity, which can result in hot spots.
"I am focused on introducing new concepts of phonon engineering to manage heat transport—new options to improve the reliability of these devices," Mohamed said.
According to a report in Businesswire in 2020, the semiconductor industry is poised to be worth more than $500 billion by 2027. Mohamed believes it's an exciting time to get into the field.
"Improving heat transport options will help a range of devices: electric vehicles, military applications, 5G and mobile technologies," he said. "The problem is really limiting the full exploitation of these devices."
Mohamed received his bachelor degree in electrical engineering from the University of Khartoum in his home country of Sudan. As he researched a career path, he realized he wanted to delve further into a specific subfield. He looked into researchers whose work interested him, found Stroscio, and applied to UIC's graduate program.
Mohamed has enjoyed his five years in Chicago, living in Little Italy halfway between the east and west campuses. He loves North Avenue beach and the city's nightlife, especially downtown. Concerts have been a great diversion from his studies, and he enjoys the Jazzfest each year in Grant Park.
"UIC is fantastic for students," he said. "It's a large university, so at first you feel like you might get lost in the middle, but I felt very valued here."
"I also think Chicago has the best downtown in the United States, and you can walk to it from campus," he added.
Mohamed said he was a serious child growing up. He was diagnosed with diabetes as an infant and said his health restrictions, coupled with a stubborn streak, made him "not a fun kid." He said it was thrilling to share news of his successful dissertation defense with his parents.
"It was the highlight of my year, what I've been working for my whole life. It was great seeing them so happy, how proud they were."
Mohamed hasn't taken much time to relax and enjoy this success. He's been actively interviewing with private U.S. companies and hopes to accept an offer of employment shortly.