Award-winning ECE teams at UIC's Engineering Expo
Award-winning ECE teams at UIC's Engineering Expo Heading link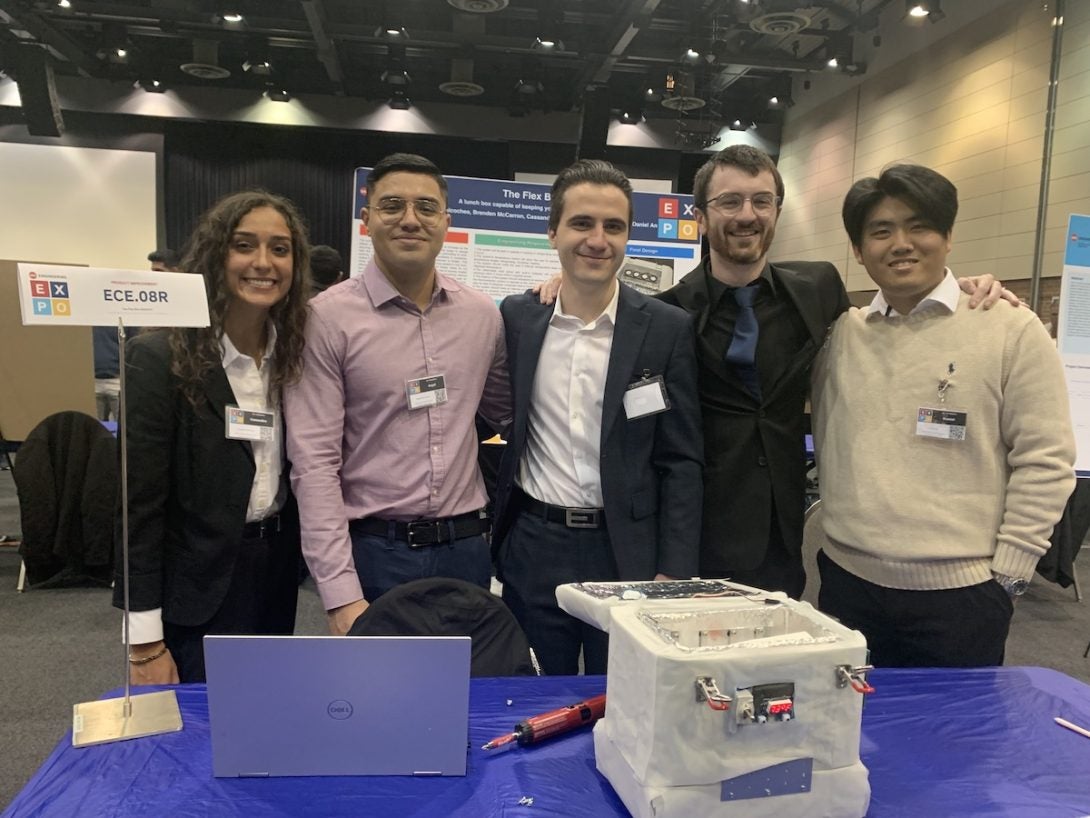 Seniors in the electrical and computer engineering department displayed their research, skills, and creativity in the culmination of their two-semester senior design class at the annual UIC Engineering Design Expo.
The expo featured teams from across the College of Engineering, who were challenged to solve real-world engineering problems. Four teams took home awards from the judging panel, which included professionals from the Chicago area, including alumni, and faculty from the College of Engineering.
ECE 08 received an award for their project, "Flex Box." The team included Daniel An, Cassandra Hines, Angel Huicochea, Brenden McCarron, and Giovanni Yacoub.
Flex box is a lunchbox that refrigerates food until needed, then can be switched to heat the contents of the box, allowing users to enjoy a hot meal. Their system includes an insulated box with a temperature sensor, a manual switch to activate heat mode, a Peltier thermoelectric assembly, which is a cold-side hot-side heat exchanger, fans to cool the box, and solar panels that can pump five volts to a battery, to recharge the Arduino that controls the device.
"While the flex box was designed as a lunch box, there are other potential uses," McCarron said. "You can use it for medical purposes, such as shipping medicines."
The team experimented with many different iterations to get their power and current high enough to meet the minimum and maximum temperatures they needed, keeping food safely at around 40 degrees Fahrenheit, and then having the ability to heat food to 140 degrees, which are the limits of the food safety zones.
"Our biggest challenge was getting our temperatures where we needed it," Hines said. "When we first tested it, our thermoelectric coolers only got to about 65 degrees, which is about room temperature."
ECE 02 was honored in the Consumer Product Development – End User Medical Devices category for their project "Pressure Reduction Magnet." The team included students Kristy Bui, David Castillo, Daniel Gonzalez, Jenny Iype, and RJ Webster.
The Pressure Reduction Magnet aims to prevent diabetic foot ulcers with a magnetic device installed in a shoe, a potential solution for the ulcers proposed by Rosalind Franklin University. Introducing magnetic fields alters the viscosity of the ferrofluid to redistribute pressure on the foot, and prevent these ulcers, which affect up to 25% of those with diabetes.
The team wanted to minimize the power consumption and heat generation of semi-permanent magnets, which need to be influenced by a nearby external field and instead used permanent magnets that maintain their magnetism, which they coupled with a mechanical control system. Their system reliably alleviated pressure points on the foot.
Team ECE 06R developed HexaTrack for their win in the Consumer Product Development – Wellness Devices category. The tool is integrated into a smartphone application, and displays the user's vital signs and stress levels, based on heart rate, skin conductance, and skin temperature. Happy and sad faces alert users to their stress levels, and data is stored allowing users to compare daily levels. The team, which included Omar Amer, Daniel Cruz, Razi Ghauri, Jay Rami, and Sebastian Tylka, used a commercial pulse oximeter as a reference level for their tool.
Team ECE 18 created Tonkla, an autonomous driving system, to notch a win in the machine learning category. Khushal Asher, Siddharth Chatrath, Johnnino Villaruel, Tianxiao Ye, and Yifei Zhao. The robot tool they developed could be used for food delivery, across challenging terrains.
Tonkla was based on the Robot Operating System, an open-source suite of tools, and uses a range of sensors such as LiDAR and depth cameras to build a 3D map with less than five percent deviation from real-world environments. With autonomous positioning and navigation, visual tracking, and human skeleton recognition, this system can follow moving targets and recognize human motion, increasing the speed at which it can traverse and deliver items.
Modified on May 17, 2023