Vahe Caliskan wins Award for Excellence in Teaching
Vahe Caliskan wins Award for Excellence in Teaching Heading link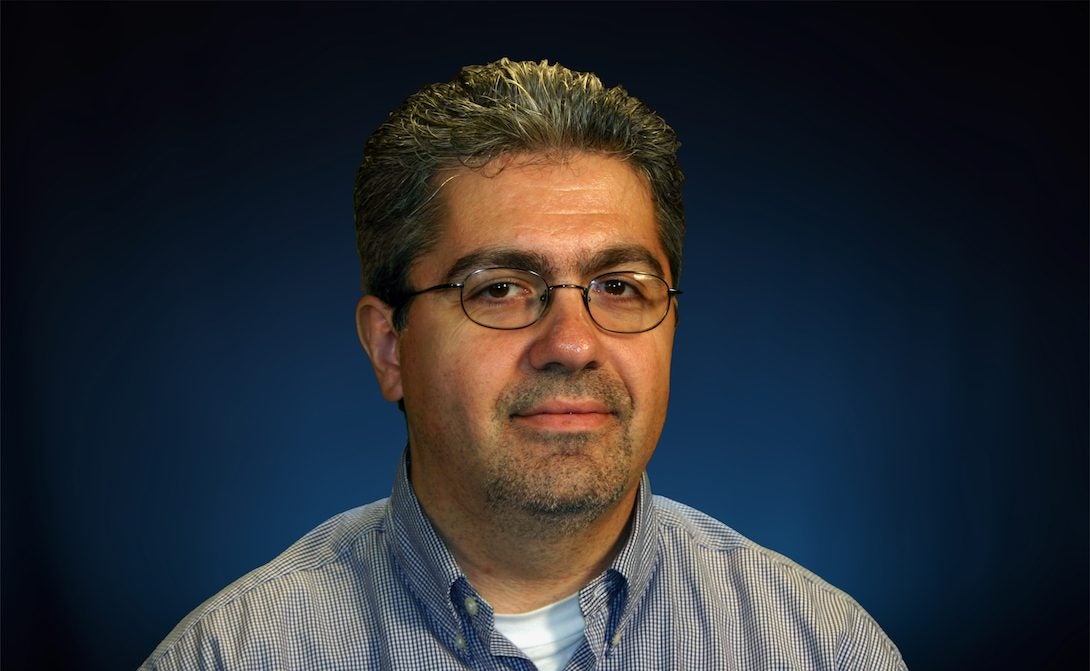 Vahe Caliskan, a clinical associate professor of electrical and computer engineering, has received UIC's highest teaching honor: the Award for Excellence in Teaching. The accolade, given by the provost's office, is bestowed on up to five faculty members per year across the entire university. This year, Caliskan was one of two winners from the College of Engineering.
This is one of many university awards that Caliskan has won in his 11 years at UIC. In 2012, he received the Silver Circle for Excellence, a nomination-based award whose recipients are chosen by a vote among graduating seniors. He received the College of Engineering's Faculty Teaching award in both 2012 and 2016 and its Faculty Advising Award in 2013 and 2017. He also won the College's Harold A. Simon Award for Excellence in Teaching in 2014.
"I joked with Professor [Rashid] Ansari that if I ever won the Award for Excellence in Teaching, I'd have to retire," Caliskan said.
Now, he said, "I have to eat my words."
Caliskan said he's honored by the award and admitted it's nice to hear congratulations from fellow faculty members, but he's more pleased about the spotlight it brings to the department. He hopes he's leading by example.
"You treat people well, you take a student seriously, and there are other students looking on—it sets the tone of the class," Caliskan said.
To that end, Caliskan goes to great lengths to ensure fairness in all of his classes. He has a teaching archive on his website for every course he's taught, with homework, quizzes, and solutions. He feels that if one student happened to get an old exam or materials from a student who had previously taken the course it would create an uneven playing field, so he levels it by making all previous materials available. This means he has to rewrite all of his materials and exams each semester, but he finds that worthwhile. He also doesn't re-use his old lecture notes.
"I start the semester with a clean sheet of paper," he said. "You tell the story and pace the story differently, even if it's the same story. Because one thing is always different, and that's the students. I look at the questions asked by students each week, and I adjust the pace."
Caliskan writes out problems by hand on the board and solves as he goes. This practice slows him down, letting students take notes, think, and work though each problem—a practice that he feels enhances their understanding compared with if he simply posted a problem's solution. He says his courses are almost all based on live problem-solving, with the exception of software and lab demonstrations. For those, he creates videos for students to refer to later.
"You have to engage and keep the students' attention," Caliskan said. "One way of losing their focus is to go straight through lectures without requiring some sort of interaction. And if you do that with PowerPoints, you end up with snooze city."
His favorite thing is to inject levity into class: he loves to make a play on words or throw in a pun, to create an intermission and break up a lecture. He provided an example: "Oh, did you know the Chicago Symphony Orchestra's conductor is working part-time now? He's a semi-conductor."
"Years later, even former students will recall these jokes and laugh," he said. "It's related to what we're doing but very tangential."
Visit Caliskan's faculty profile here.
Modified on October 05, 2020