New breathable smart mask can monitor coughs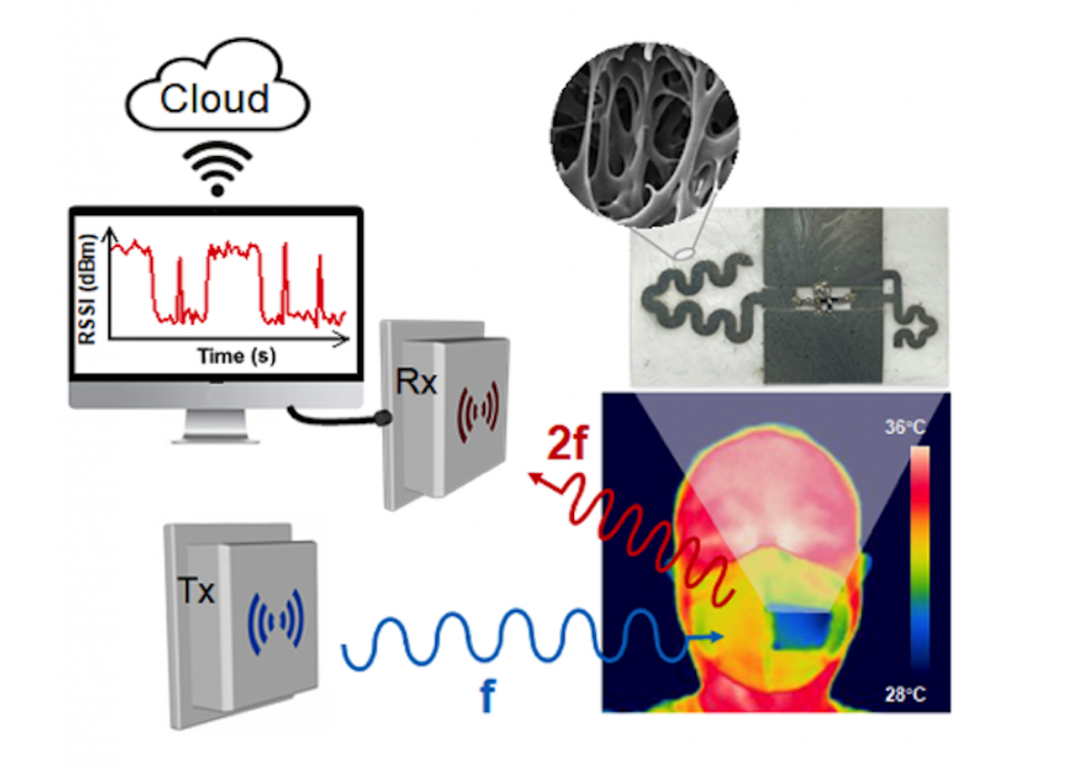 A researcher at UIC has developed a smart, battery-free breathable face mask that can monitor coughs and mask usage. This technology could be useful for COVID-19 and other respiratory illnesses by expanding comfort and adding functionality to facemasks.
Associate Professor Pai-Yen Chen, along with his graduate students Zhilu Ye, Minye Yang, and Liang Zhu, worked with researchers from the University of Missouri – Columbia on the smart face mask, which features a soft, stretchable, flexible radio-frequency transponder that is attached to a regular face mask using silicone polymers.
The device can monitor the type of cough, such as a wet or dry cough, and can also record cough frequency. The data is transmitted over internet-of-things (IoT) devices, such as a cellular network via your smartphone, to the cloud—a network of connected servers across the globe. There, the information is processed by a user interface that is connected to the radiofrequency transponder in the smart mask, which will share the data back to the user and selected healthcare professionals using the mask for patient monitoring.
The mask also sends a signal to the mask-wearer via their smartphone if it's not being worn properly or if it has been removed. Chen said they could also integrate other monitoring technologies into the device.
The radio frequency transponder sends signals using electromagnetic energy, skirting the need for a battery. It's the same type of technology that allows workers to enter a space via enabled ID badges and that tracks runners in races through small tags.
"The most unique part is that it's passive, you don't need a battery and a power source," Chen said.
Their paper on the research, "A Breathable, Reusable, and Zero-Power Smart Face Mask for Wireless Cough and Mask-Wearing Monitoring," was published in ACS Nano, a top nanotechnology journal.
Current smart face masks typically use rigid materials or printed circuit boards attached to a nonporous material, making them bulky, cumbersome, and non-breathable.
Chen's team created a more breathable smart mask by using a porous material with passive-cooling technology for its transponder, which is made from silver nanowires. To make the transponder safer and more durable, researchers added a coating to protect against humidity and the deterioration that can come with high-temperature environments.
The radio frequency transponder uses a soft harmonic sensing technique that can alleviate electromagnetic interference in the system, allowing the mask to transmit data to the cloud. The technology also allays privacy concerns that occur with optical or acoustic sensing, which are currently used in other smart face masks.
Chen ultimately hopes to develop a general material that can be used for wearable antennas and integrated circuits that operate at high frequencies. This could include comfortable smart wearables such as smart bandages that can monitor temperature, humidity level, pH value and uric acid level around a wound, and could be integrated with drug delivery systems to facilitate the wound healing process.