Mohamad Merei's road to success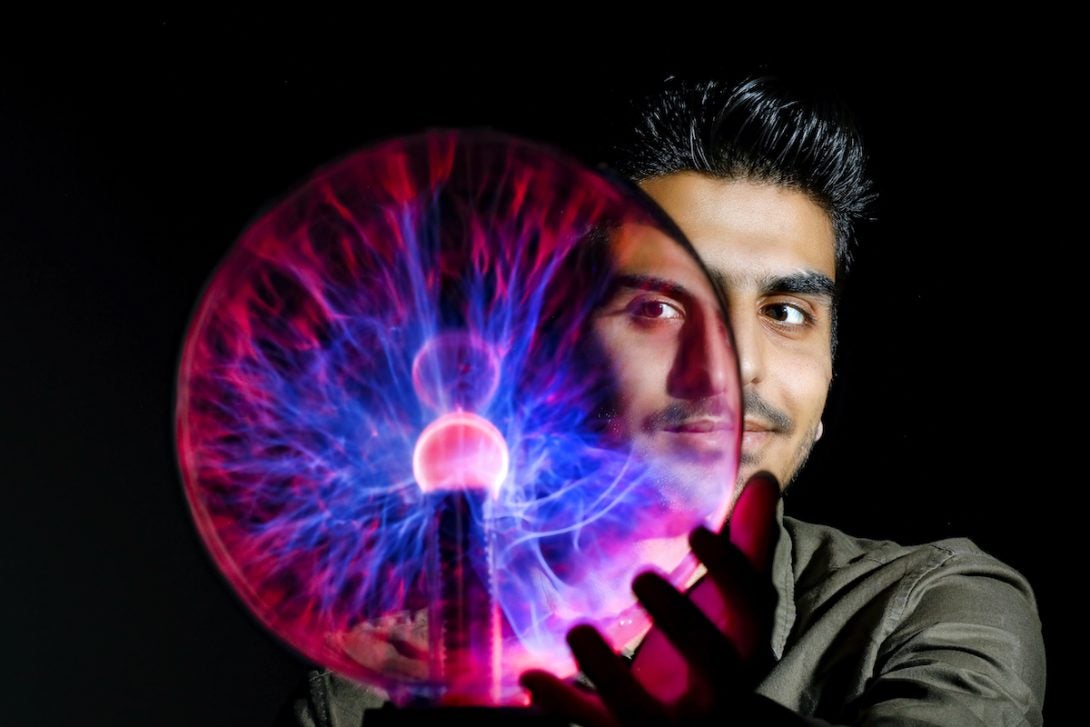 The future is bright for Mohamed Merei, who graduated this spring with a 4.0 GPA and a degree in electrical engineering.
With several internships and research opportunities under his belt, he accepted a position as an electrical engineer with Milwaukee Tool's Chicago Engineering Design and Innovation Center.
But the road to his success was filled with obstacles.
Merei and his family fled their home country of Syria in 2013. They lived as refugees in Jordan for three years and arrived in the United States in 2016. Merei is one of five children, and his parents were very concerned about their children's future.
"Being refugees, the years of war were very tough on us," Merei said. "When we came to the U.S., we faced many challenges, including language and a new way of life."
Merei knew he wanted to study electrical engineering from a young age: He spent his childhood tearing apart electronics, trying to understand how they worked. After arriving in Aurora, Illinois, he attended Waubonsee Community College before transferring to UIC's college of engineering in 2019.
UIC seemed like the right fit, he said. His brother was a student here, and he was excited about the student body diversity and the opportunity to meet people from a variety of backgrounds. He also wanted to attend a public research university and be able to live at home and commute to school.
As an undergraduate, he took part in many research opportunities. He participated in the Early Research Scholar Program, a two-semester long apprenticeship funded by the National Science Foundation. He worked with Ahmet Enis Cetin, a research professor of electrical and computer engineering.
"I was introduced to sensors and signal processing, which are topics I like," Merei said.
Cetin nominated him for an internship in the Civil, Materials, and Environmental Engineering department, where he worked in the lab of Professor Didem Ozevin, developing and designing a wideband micro-electro-mechanical systems (MEMS) acoustic emission sensor array, used to detect structural damage.
Cetin also nominated Merei for an internship in the Richard and Loan Hill Department of Biomedical Engineering, where he worked with Clinical Associate Professor Haneneh Esmailbeigi. One of the projects he worked on during his year in Esmailbeigi's Wearable Technology and Sensory Enhancement Laboratory was the development of a low-power wireless charging device for BruxALERT, a wearable oral device developed by a team of biomedical engineering students. BruxALERT uses biofeedback to alert users when they are clenching or grinding their teeth.
When Merei first applied for the Early Research Scholar Program, he wasn't sure the experience would benefit him, but he took a chance. Now, he knows differently.
"It really helped me a lot. I built a relationship with Professor Cetin, and it grew from there," Merei said. "I would advise any student to go to professors, approach them; don't wait for opportunity to knock on your door. They want smart students in their labs."
In addition to his internships, Merei and his teammates won the best-in-category design in electrical engineering at this year's Engineering Expo. He also maintained a part-time job throughout his studies at UIC.
Merei toyed with the idea of pursuing a PhD in sensor technologies but decided he wanted to gain some work experience first. At Milwaukee Tools, he will work on batteries for power tools. Someday, he hopes to return to UIC for graduate studies.
"My time at UIC was more than I expected," he said.