It's a SWEet beginning to the year for women studying engineering
It's a SWEet beginning to the year for women studying engineering Heading link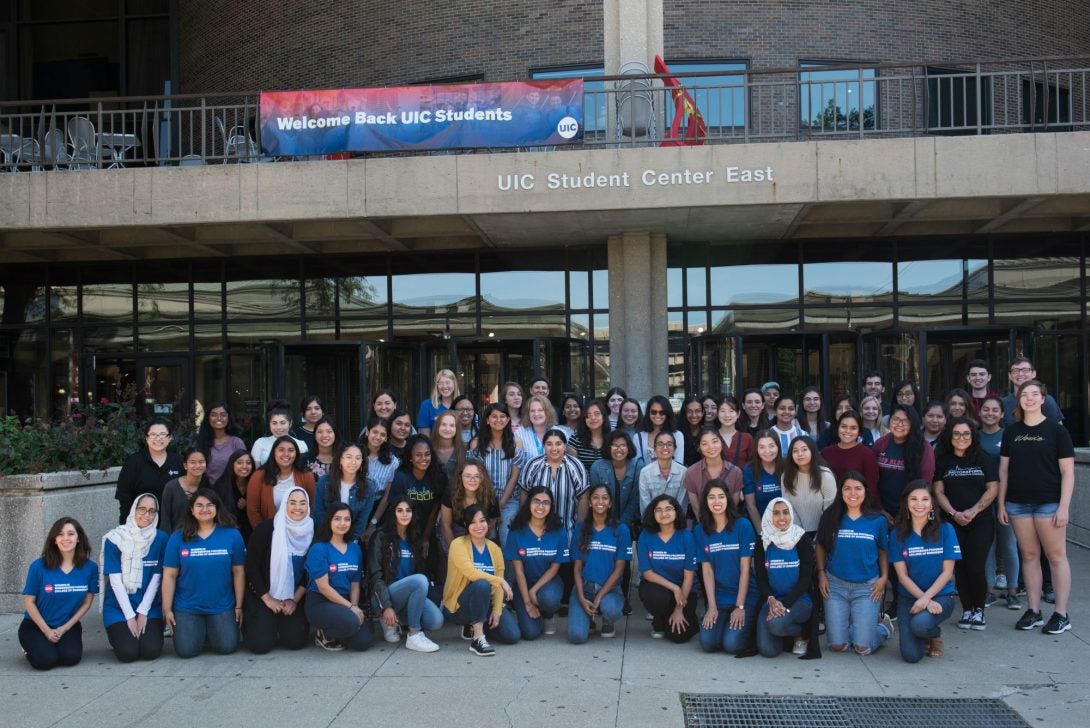 In September, Daniela Tuninetti, interim department head of the electrical and computer engineering department, joined participants at the Women in Engineering Programs (WIEP) Welcome to UIC SWEet Beginnings Brunch.
The brunch, which welcomes new students and kicks off a new academic year, allows students to learn more about the groups that support women in engineering on campus, including the Society of Women Engineers (SWE) and Women in Computer Science (WiCS).
Professor Tuninetti, who became interim department head in August, feels strongly about supporting women in her field.
"Going to college is exciting and scary at the same time. From day one, it is important to feel welcome and supported in your new environment, especially if you belong to an underrepresented group," Tuninetti said. "It was my honor to welcome those bright young women to UIC."
During the gathering, Tuninetti shared her own personal journey as a woman in engineering and about how crucial it was for her to have a strong support and mentoring network.
"I wanted to assure them that we deeply care about their success at UIC and that our door is always open," Tuninetti added. "My goal was to convey that engineering is a worthwhile and fulfilling career, despite challenges and struggles. Hopefully I achieved that by sharing my passion for electrical engineering."
SWE at UIC is one of the largest engineering student organizations at UIC, with a membership of more than 100 students. The group hosts a Shadow Day for high school students, pairing prospective students with a current UIC SWE member to attend classes, learn about the campus, and meet students and faculty who can ease the transition to college.
WiCS is a student organization that empowers and supports women in computer science. WiCS offers monthly general body meetings to encourage the professional development and academic success of its members. Each October, the computer science department and WiCS provides students with the opportunity to attend the Grace Hopper Conference, the largest gathering of women in technology, through funding from the Building, Recruiting, And Inclusion for Diversity (BRAID) program.
In addition to the SWE Shadow Day, WIEP hosts a Girls Who Code at UIC club, which is a free, year-round program for high school students; an Introduce a Girl to Engineering Day each February for high school students to explore engineering-related activities and meet with engineers, as well as UIC students, faculty, and staff; and the Women in Engineering Summer Program, a free, four-week program filled with hands-on projects and field trips.
"These are great resources for every student with a passion for engineering. These student organizations are of tremendous help through some of the challenges these young women may face along this great journey they have just embarked on," said Tuninetti.
Modified on September 21, 2020