Eta Kappa Nu honor society returns to UIC, 28 members inducted
Eta Kappa Nu honor society returns to UIC, 28 members inducted Heading link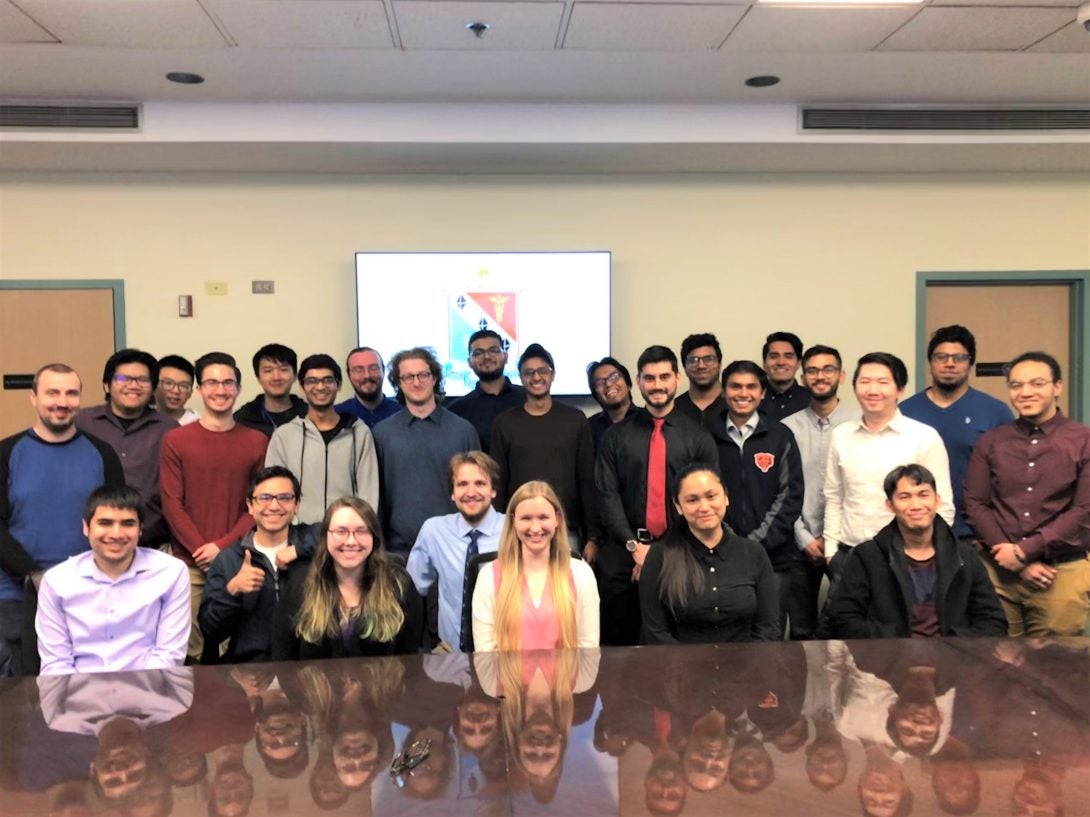 It's been over 30 years since the Iota Lambda chapter of Eta Kappa Nu (HKN) first formed on the UIC campus, honoring top students from the Electrical and Computer Engineering Department. This year, the chapter has been reinvigorated, with 28 members.
The honor society began at University of Illinois Urbana Champaign, and a chapter was started at UIC in 1986. In the early 2000's, HKN merged with the Institute of Electrical and Electronics Engineers (IEEE), so the society is recognized as IEEE-HKN. At UIC, the chapter became inactive after students could not be found to fill officer positions.
"It helps increase recognition in the ECE department for the students," said newly-named Iota Lambda IEEE-KHN president Alvaro Sahagun. "Other departments had their own honor societies and it was unfair ECE didn't have their own."
Sahagun, a senior who is deferring graduation until 2020, began looking at honor societies that he qualified for last year. He found HKN on an old website and was surprised he didn't receive an invitation to join. After some digging and a conversation with Clinical Associate Professor Vahe Caliskan, Sahagun found the UIC chapter would need to be active for him to be inducted.
This year, professors Jim Kosmach and Calsikan re-started the group, emailing eligible students to join the chapter, and to find officers. Sahagun jumped at the chance to be involved, since he had looked into trying to restart the group last year. Other officers for the 2019-2020 term include Marcos Araque as vice president, and Keneel Patel as secretary.
To be eligible for IEEE-Eta Kappa Nu, juniors majoring in electrical or computer engineering must be in the top 25 percent of their class; seniors the top 33 percent. Additionally, students must have completed three of four of these specific courses: ECE225, ECE265, ECE266, and ECE310.
The honor society is discussing hosting workshops led by IEEE-KHN members in MATLAB, SolidWorks or coding, or perhaps partnering with other campus groups such as the Minority Engineering Recruitment and Retention Program (MERRP) or the Society of Hispanic Professional Engineers (SHPE) to provide tutoring.
"It's quite fun, it gets me excited," Sahagun said. "We want this to be more than just an honor society."
The 2019 inductees include: Francis Amadeo, Juan Andon, Marcos Araque, Imran Babar, Arsalan Babar, Lesprance Batiste, Eric Bauer, Shariq Bokhari, Sebastian Calderon, Jinbin Cao, Dara Chea, Yaner Chen, Megan Dague, Joseph De Joya, Jessica Espejo, Francisco Gallegos, Pratik Jasani, Radomir Jurewicz, Syed Khalid, Ivan Kostadinov, Hayley Morton, Vishal Parikh, Vraj Patel, Keneel Patel, Alvaro Sahagun, David Samuels, Alex Smith, and Jeffrey Stanton.
Bastiste, Bokhari, Chea, and Dague graduated May 12, 2019.