ECE Senior Design Team TruBalance speeds to best-in-category win at UIC's Engineering Expo
ECE Senior Design Team TruBalance speeds to best-in-category win at UIC's Engineering Expo Heading link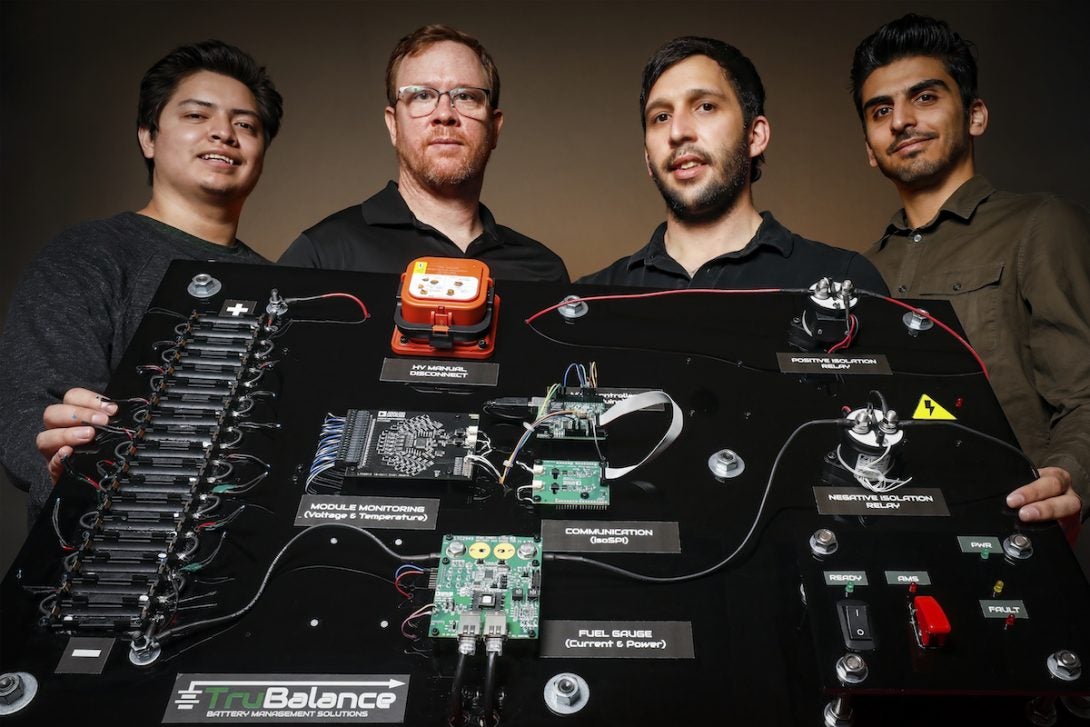 Each year, seniors in UIC's College of Engineering take part in the Engineering Expo, a contest at the culmination of a yearlong Senior Design Course. Students embark on an independent project, from design to implementation and testing, then present their results at the UIC Engineering Expo, an event where industry experts and alumni judge their efforts.
Team TruBalance took the best-in-category prize for their electronics engineering project. The team – consisting of students Bob Campbell, Shane Hondrombilas, Mohamad Merei, and Fabricio Ortiz – designed a fully-functional lithium-Ion battery pack and management system for an electric car, and developed a working prototype of the system.
"Batteries, high voltage, and wireless charging are things we didn't get to work on in the classroom; we put in a lot of effort in to learn these things," Merei said. "We wanted to build a battery system from the ground up, one that can accept hardware or software upgrades in the future and can accept additional cells."
TruBalance was sponsored by UIC Motorsports, a student-run organization that competes in
Society of Automotive Engineers International (SAE) events with combustion engine Formula and Baja vehicles. This year, UIC Motorsports began assembling an interdisciplinary team of engineers to develop their first Formula Electric race car.
"We learned from the Motorsports team how many cells we would need, and what their initial constraints would be," Hondrombilas said.
SAE is known for its strict technical and safety rules and regulations – only 10% of teams that participated in one of their competitions in 2021 passed all required inspections. The system developed by the TruBalance team adheres to Formula SAE safety rules and regulations and will provide a blueprint for the UIC Motorsports team to build a full-size working battery system for its future Formula Electric car.
A few of team TruBalance's members had previous experience in mechanical systems: Hondrombilas served in the US Marine Corps as an avionics technician, working as a calibration and repair technician. Campbell came to UIC after 12 years as an ASE Certified Master Technician in the automotive repair industry, diagnosing and repairing electrical issues.
The system TruBalance developed is based on four identical battery modules and a monitoring system, and is designed around analog device integrated circuits, which provides accurate voltage, current, and temperature monitoring. Their proof-of-concept prototype, which contains one-fifth of a single battery module, was able to demonstrate the accuracy of their monitoring, and control of all safety regulation circuitry. The team also created a graphical user interface for diagnostics and real-time data gathering.
"The prototype is 75.6 volts, but the design for SAE is 302.5 volts," Campbell said. "They can combine the module into whatever configuration they need for their power."
Campbell also noted the effect of current supply chain issues on their project, often double- and triple-sourcing items to get what they needed. Team TruBalance got the last part on the shelf in one instance – a part that would have otherwise taken another 13 weeks to arrive.
The teammates, who have known one another since the beginning of their UIC careers, feel fortunate to share their senior project.
"There was a lot of collaboration. I got very lucky with this team," Ortiz said.
"Working with this group for senior design has been the best final academic experience that I could have hoped for," added Campbell.
The four teammates graduate in May but already know they will stay in touch: Hondrombilas and Merei are headed to positions at Milwaukee Tool's Chicago Engineering Design and Innovation center, and Campbell and Ortiz have accepted offers at the Chamberlain Group; Campbell as an electrical engineer, and Ortiz for an internship.
Merei had advice for his fellow undergraduate students: look for opportunities to conduct research at UIC.
"The Senior Design Project, and other undergraduate research opportunities, on top of the radical things I learned in class, has set me up to succeed," Merei said.
All Engineering Expo projects, including TruBalance, will be available online in May.
Modified on April 27, 2022